Sarah O. Schindler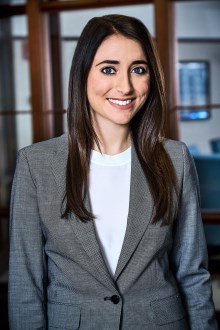 Ms. Schindler has represented hundreds of injured plaintiffs in high-stakes cases across the country. In 2019, she joined Kolsby Gordon Robin & Shore to focus on fighting for those injured in the Pennsylvania / New Jersey region which she and her family have called home for generations. Her unique experience litigating against some of America's largest corporations and law firms — in complex matters ranging from dangerous and defective product cases, to employment class actions, and antitrust litigation — gives her an edge as an advocate for individuals and families. Ms. Schindler currently focuses her practice on catastrophic injury, product liability, and medical malpractice claims. She approaches every case with careful attention to detail and is dedicated to achieving the best results for her clients.
CAREER HIGHLIGHTS
Ms. Schindler first took interest in plaintiff's personal injury practice as a law student, spending several semesters and summers working on product liability, medical malpractice, and other catastrophic injury matters at another Philadelphia law firm.
After graduating law school, she spent two years as an attorney law clerk for the Honorable Arnold L. New in the Philadelphia Court of Common Pleas Mass Tort Program. There, she assisted in adjudicating thousands of personal injury claims brought against pharmaceutical and medical device manufacturers and sellers of asbestos-containing products.
Ms. Schindler then spent four years with the law firm of Pogust Braslow & Millrood, LLC, where she represented plaintiffs across the country in a variety of complex matters, with an emphasis on personal injury claims against pharmaceutical and medical device manufacturers. She also handled other types of single-plaintiff personal injury cases arising from defective products, motor vehicle collisions, and premises liability. In 2018, she joined an affiliated law firm, where she worked on a nationwide antitrust litigation against the country's two leading providers of car dealership management systems.
In 2019, Ms. Schindler joined the team at Kolsby Gordon Robin & Shore to focus on representing injured individuals and their families, with an emphasis on complex cases such as product liability, medical malpractice, and other matters involving severe injuries.
EDUCATION
J.D., Villanova Law School, 2012
B.A., Pennsylvania State University, 2009
BAR ADMISSIONS
Pennsylvania
New Jersey
United States District Court, Eastern District of Pennsylvania
United States District Court, New Jersey
PROFESSIONAL ASSOCIATIONS
American Association for Justice – Member and Law School Trial Team Competition Coordinator
Pennsylvania Association for Justice
Philadelphia Trial Lawyers Association – Future Leaders
Philadelphia Bar Association – Former Cabinet Member and Executive Committee Member
Brandeis Law Society
AWARDS/RECOGNITIONS
Pennsylvania Super Lawyers, Rising Star, 2017-Current