Kolsby Gordon Giving Back to the Community

At Kolsby Gordon there is a strong commitment to giving back to the community. Kolsby Gordon proudly supports numerous charitable and civic organizations. Partner Robert N. Hunn gives back to the community by taking a leadership role in the battle to end homelessness. Mr. Hunn serves as the Chairman of the Board of Directors for the non- profit Pathways to Housing PA (PTHPA).  PTHPA was created to transform individual lives by ending homelessness and supporting recovery for people with disabilities. This organization is unique and different from other organizations that combat homelessness because it has created a revolutionary strategy called; The Housing First Model. The results of the Housing First Model have transformed and made a positive impact on the lives of the participants in this program.
The Housing First model is simple: provide housing first, and then combine the housing with supportive treatment services in the areas of mental and physical health, substance abuse, education, and employment. Since its beginning in Philadelphia in 2008, Pathways to Housing PA has grown from its initial goal of housing the most resistant 125 people from the City's chronic street homeless population to housing more than 400 of those folks.  Not only are they housed, but they are reclaiming their lives, breaking their sometimes decades long cycle of homelessness.
Pathways to Housing PA operates with the Philadelphia Furniture Bank for those who are placed in housing and do not have furniture. The public can donate furniture for individuals and families in crisis involved in the program. The furniture bank not only furnishes houses for the homeless, it also helps the economy by recycling unused furniture.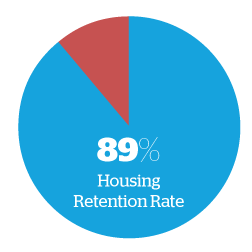 Pathways to Housing PA is less expensive per person than comparable programs serving the same population. As shown below, Pathways is half the cost of other permanent housing programs for chronically homeless individuals and about two-thirds the cost of Residential Drug and Alcohol programs for chronically homeless mentally ill people.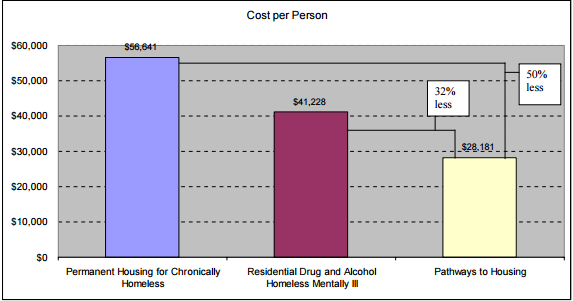 Click the link below to support Pathways to Housing PA