One of the World's Most Popular Tourist Destinations, Grand Floridian, Faces Tragedy

It seems unimaginable; the devastating news reported about the 2- year- old boy from Elkhorn, Nebraska who was snatched off a Walt Disney World beach by an alligator and dragged underwater resulting in death by suffocation. Is Disney legally responsible for the child's death?
Under the law, visitors to Disney World are considered "invitees" of the property. Disney has a responsibility to discover conditions on the property that present an unreasonable risk of harm and if the invitee would not realize the danger or not be in a position to protect himself from the danger, Disney must exercise reasonable care to protect the invitee from the danger.
Was Disney aware that alligators lived in their man-made lagoons?  "The Wrap, a media industry publication, reported that Disney's Polynesian Village Resort was aware of an ongoing problem of guest feeding alligators and had ignored staff requests to put protective fences in place. The Polynesian Village Resort is adjacent to the Grand Floridian and a short walk along the Seven Seas Lagoon, where the alligator attacked the boy."  Additionally, it is safe to assume that a family from Nebraska visiting Disney World would not be aware of the infestation of alligators so close to the hotels and public spaces.
What did Disney do to protect its guests?  "No swimming" signs had been posted on the lagoon's beach but does such a sign adequately warn of the danger that exists in the lagoon? Clearly there is a difference between a no swimming sign and one that says that an alligator can come up from the water and attack you.  It would appear that Disney's signage was woefully deficient in warning guests about the danger lurking underneath the murky lagoon water.
Disney had been concerned about scaring the guest with too many explicit signs about the animals due to the large amount of activity that the resort hosts. Florida is home to more than a million alligators and nearly 20 million people. Between 1948 and 2016, there were 257 alligator attacks with 23 deaths including eight children. While statistically the percentage of alligator attacks is small, the proximity of the alligators to public areas on the resorts demands that Disney do more than post no swimming signs.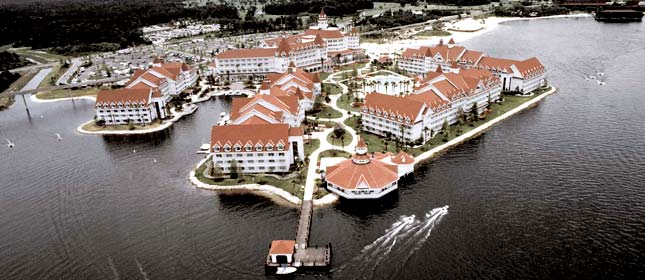 Aerial view of Grand Floridian